John and Helen Niven recount the incredible story of taking dental care to the remote villagers of Nepal.
Our dental volunteer trips to Nepal were initiated by my meeting Ang Tshering Sherpa in May 2011 whilst on a trip through Tibet with World Expeditions. He was the chairman of the committee that ran the Kushudebu Public Health Mission Nepal at Junbesi, a remote village on the original route to Mount Everest.
While the clinic was able to cover many medical problems the nearest dental service was five hours walk away. After many conversations and emails with Ang I decided to come to KPHMN and attempt to set up a basic dental facility.
In April 2012 Helen and I arrived in Kathmandu with many kilograms of portable dental equipment and supplies. We were met by Ang's brother Ang Nigma who was our guide for our visit to Nepal. A visit to a local dental supply house to collect further supplies, followed by an interview with the Nepal Medical Board to obtain my dental registration, saw us ready to set out to Junbesi.
I had managed to put together a simple transportable dental surgery, consisting of a portable dental unit, a suction unit I found in Kathmandu, and a suitable quantity of instruments and supplies provided by generous dentists and dental supply houses in Australia.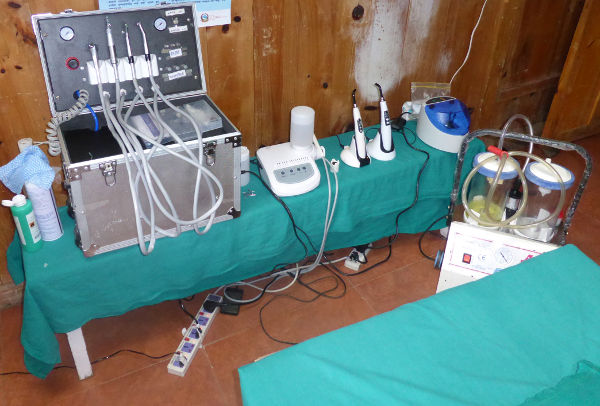 We flew to Phaplu by twin engine Otter, landing on a gravel runway on the side of the mountain. A four-hour trek up the valley brought to us to Junbesi; fortunately we had porters to carry our baggage and dental supplies.
After setting up in a spare room at the clinic we were informed that 91 people had already registered for treatment and there were more to come - our presence had been advertised on the local radio.
We stayed at Junbesi for two weeks with the occasional day off for some local trekking and monastery visits. I saw and treated 167 patients, which included many extraction cases, restorative cases, and other miscellaneous cases.
The clinic staff was most helpful. Ang Nigma and the doctor translated and explained the treatment to patients, and the nursing staff assisted in treating patients and were keen to learn about dental treatment.
The patient mix was interesting: we saw many older patients with multiple rotten teeth, but what was encouraging was the teenagers' dental health. Most had fairly good oral hygiene and often presented with only one obvious carious lesion which could be restored.
We saw many monks and nuns who came down from the monasteries, in particular Thupten Chholing which houses 500 monks and nuns a majority of whom are refugees from Tibet having walked over the Himalaya passes to escape from the Chinese.
There was no appointment system, the patients just appeared and had to be seen. We were able to postpone treatment on the immediate local village patients to get some order into proceedings.
We managed to obtain good if basic working conditions. The doctor's couch was the right height for extraction cases, and a bed was utilised for the restorative cases. Lighting was by strong LED torches and headlights, not ideal but satisfactory. We managed without any radiography facilities. The clinic had an autoclave, and all instruments were cleaned and autoclaved between patients.
One of my assistants (Shelly Voight) who is the business partner to Ang Nigma in his trekking company, is the fundraiser for a similar clinic at Ghandruk in the Annapurnas. I was asked if I could do a similar clinic in that facility.
November found us in the beautiful village of Ghandruk with a similar dental package. I treated 200 patients over a 2-week period with still more wanting to be seen. This village is on the Annapurna sanctuary track, requiring a 3-hour car/4WD journey followed by a 2-hour trek up to the village.
We left both villages after very satisfying visits. We stayed in local lodges and received great hospitality. I feel we achieved everything we set out to do. We established basic dental facilities which have been packed away until I or another dentist returns. I kept the dental set up simple, complex equipment would be impossible to repair or service in these remote areas, the transportable nature of the equipment allows it to be taken to Kathmandu if necessary.
With my connections to two trekking companies I am hoping it will be possible to organise visits by dental professionals to combine a clinic with some trekking or other tourist activity.
In 2014, when we would treat 500+ patients, we ran the Ghandruk Clinic first and then went to Junbesi. We were unable to join the Adelaide group this year, but they took another dentist who was able to use the pack away dental set up, which was very pleasing. This time as Phaplu airport was still closed we were flown in to the village by helicopter, much more civilised. At Junbesi we were able to see and treat many teenagers from the school, which we hope will reduce their dental problems.
I have managed to improve the dental facilities at both clinics at each visit. Both clinics have a portable dental unit, ultrasonic scaler, surgical suction unit, restorative capsule mixer, and restorative curing lights, plus a good supply of instruments. Ghaundrul now has a portable dental chair including operating light. As a result we are now able to do more restorative and preventative procedures.
We are planning our return to Nepal for March–April this year. Another dentist will be accompanying me to Junbesi, and we plan to concentrate on the school children from the Junbesi school as well as other smaller schools from the surrounding valley and the boys from the Serlo Monastery.
Acknowledgements to the following for their support: Australian Dental Association Far North Division, Friends, acquaintances, and the people of the Alstonville Plateau, Rotary Club of Ballina on Richmond, Henry Schein Halas, Southern Dental Industries, Troldental, Plateau Dental Care, Dr. Steve Shelton.