Details

Written by

Dr Brian Hughes – Fever Clinic

Some GPs have recently had difficulties in coordinating care for suspected Covid-19 patients. Dr Brian Hughes of the LBH Fever Clinic provides a quick update for the current situation on the North Coast.
Criteria for being seen at the Covid-19 Clinic have changed rapidly over the last two weeks. The criteria as of 8 April 2020 are:
Respiratory infection requiring admission

Overseas travel past 14 days and respiratory symptoms

Contact with case COVID-19 past 14 days

Symptomatic HCW Worker (includes aged care workers and disability workers in residential facilities)

Public health outbreak control (includes aged care facility residents, correctional centre inmates/staff, other institutions, suspect cases in remote Aboriginal communities- 2 or more cases) or as directed by PHU

Essential services workers e.g. Police – symptomatic

Contact with a Backpacker past 14 days -symptomatic

Symptomatic- from or contact with Eastern Suburbs Sydney or Ryde past 14 days (other area defined by PHU – e.g. see below)

Symptomatic from Port Macquarie or Byron Shires

Backpackers symptomatic or

asymptomatic
Referrals from GPs (Please call if issues)
Read more: Covid-19 Update from the North Coast Fever Clinic
Details

Written by

David Guest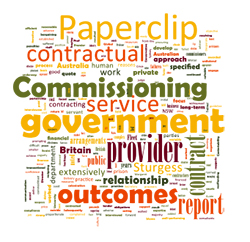 Commissioning and contracting has been used extensively by the British and Australian governments for many years. In fact it goes back so many years that one could argue that Australia owes its existence, or at least its English heritage, to commissioning.
The initial wave of colonisation was financed through contractual arrangements for the First Fleet in 1787 and was followed over the next few years by the Second and Third Fleets with similar arrangements. The effectiveness of these arrangements was variable on some measures. The death rate of the prisoners on the Second Fleet was 40%.
Commissioning started to be used extensively in Britain following the election win in late 1979 by Margaret Thatcher's Conservative government that had followed the "Winter of Discontent", marked by widespread strikes under Labor.
Commissioning came to the fore in Australia under the NSW Greiner government in the late 80s and was led by the Premier's Secretary, Gary Sturgess. Sturgess worked extensively in Britain in government and private practice in the 2000s before resigning his position as Executive Director of the Serco Institute in 2011 to return to Sydney, where he now holds the chair of Public Service Delivery at the Australian School of Business, University of New South Wales. He has, however, continued to work as an adviser in Britain, most recently in 2017, with his paper Just Another Paperclip.
Details

Written by

David Guest
Medicare, the government voucher system for out of hospital medical services, is now 36 years old. It has enjoyed widespread support over that time and, while opposed by the medical profession initially, and certain politicians since, albeit not publicly, it has become accepted by health professionals and the general public. For many Australians it is the only system they have ever experienced.
Medicare is similar to other national health schemes found in the developed world and while most agree it is not perfect they are glad it is not what we see in the USA.
This model of government financing the medical sector has in recent years been extended to aged care services, disability care, and mental health support. The government offers packages of care in a competitive market for contractors to supply the designated services to clients.
Contracts are awarded to large organisations that are incentivised to employ staff with minimum qualifications for fixed periods of time. The focus is on doing the minimum required in the shortest period of time to meet the requirements of the contract. Fast and cheap! (See Good, Fast, Cheap - Pick Any Two)
Details

Written by

Mark Ellem - TNR Chartered Accountants - Advertorial
COVID-19 has been a shock to many businesses and in a lot of cases will cause many operations to cease. At this stage, there is no way of knowing how long this health and economic crisis may last. COVID-19 businesses can be broadly classified into the following categories:
Best case – limited impact to usual trading conditions

Likely – some impact to trading. Reduced activity and revenue, increased costs to meet social distancing requirements, disruption to supply chains, employees inability to work due to third party closures, inefficiencies in productivity if they need to work remotely, etc.

Worst case – forced closure periods or complete closure
There are a range of actions that your business may need to consider and implement to manage the risks associated with COVID-19. Actions should be designed after assessing the current financial status of the business so any measures introduced will assist with navigating through the crisis and also position the organisation to take advantage of the eventual recovery.
Details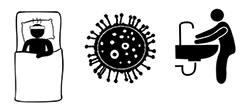 As if the expected upswing in presentations and admissions from coronavirus isn't enough to send shockwaves through public hospitals the latest performance figures show that facilities run by the Northern NSW Local Health District are already bursting at the seams. 
Data released in the Bureau of Health Information's Healthcare Quarterly Oct-Dec 2019 confirm that hospitals within the LHD's remit (Maclean up to Tweed Heads) faced a demand increase on almost every indicator, including arrivals at ED by ambulance (up by 4.1 per cent to 8416 over the past year), a 6.8 per cent rise in elective surgery, and longer wait times, and a 5.7 per cent increase in admitted patient activity. 
In the year analysed, 19 more babies were born in Northern NSW public hospitals. 
Despite these increased pressures, the system generally coped well, sitting close to the NSW average results in most areas, and bettering them in some: Median time for patients to leave the ED is now 2h 04m – 51 minutes under the NSW average. 
Read more: North Coast hospitals bursting in advance of Covid-19 pressures