Details

Written by

David Guest
Muḥammad ibn Mūsā al-Khwārizm (محمد بن موسی خوارزمی) was a mathematician and head of the library of the House of Wisdom in Baghdad in 820 CE. His book on calculations gave us the word algebra and his name lives on in the term algorithm.
An algorithm, as defined in Wikipedia, is  a "finite sequence of well-defined, computer-implementable instructions, typically to solve a class of problems or to perform a computation. Algorithms are always unambiguous and are used as specifications for performing calculations, data processing, automated reasoning, and other tasks".
The RSA (Rivest–Shamir–Adleman) algorithm is used for encrypting and decrypting messages. A user creates two paired keys, a public key that is widely disseminated to those with whom you may want to communicate securely and a private key, which unsurprisingly you keep to yourself. In simple terms the way it works is that one of the keys locks the message and only the other can unlock it. Its practical use is to allow the sending and receiving of secure, authenticated messages.
Read more: Australian Health eCommunication - a short primer
Details

Written by

Dr Louise Imlay-Gillespie, haematologist, LBH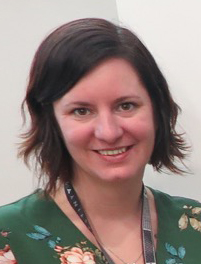 On 3 February 2020, the Clinical Year commenced! New interns arrived and we said farewell to many of our previous cohort. This year we have 12 new intern Rural Preferential Recruits (RPR) commencing at the Base to join the current 12 resident RPRs.
There will still be two rotating junior doctors from Prince of Wales as interns and residents (four in total) but our homegrown talent is certainly increasing. This year four of the interns had been students with us and liked us enough to return: generally our reputation as a centre is strong, attracting the other new RPRs. Lastly our retention from residency to PGY (postgraduate year) 3 was also very strong, with our managing to retain the majority of our previous RPRs compared to the state average of less than 20%
The year will see the second tower at Lismore Base Hospital opening, with many wards planned for decanting across in the next few months including the ICU. Exciting days ahead.
Details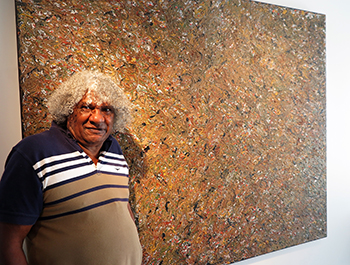 The most public, hence most viewed, work by the late Albert (Digby) Moran spans the facade of Woolworths River Street, Ballina store. The work, or more accurately works plural, as the materials used are quite different, is made up of a painting, Floating Through My Spirit Home, affixed to a large, eye-level glass window, and panels of drilled corten steel*, Someone's Always Watching You, translated from Digby's cloth paintings.
Inspired by the Bundjalung side of his heritage and nearby Cabbage Tree Island where he grew up, the works were an innovative commission by the supermarket in 2014. They will remain here in perpetuity, a short walk from the Richmond River that figured so prominently in the artist's life. (Another large work adorns the Goonellabah Sports & Aquatic Centre).
Details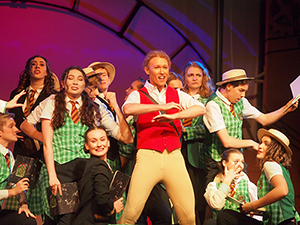 Spearheaded by high-profile professional productions from the NORPA company, starting with comedian Jonathan Biggins' acclaimed The Gospel According to Paul [Keating], this year's show season in the Northern Rivers is shaping up as the best ever. Highlights range from Priscilla; Queen Of The Desert (with a live band) and Mamma Mia, both by Ballina Players, to Lismore Theatre Company's Educating Rita at the newly upgraded Rochdale Theatre in Goonellabah.
Hot on the heels of Biggins' one-man show comes Ballina Players' Dial M for Murder, the inspiration for the 1954 film directed by Alfred Hitchcock, and an ideal piece for live theatre. The Swift Street theatre's table configuration is ideal for an informal night out (or matinee), with wine and other refreshments available, and shows book out quickly.
Last year's season ended with an excellent production of the musical Wicked, The Untold Stories of the Witches of Oz, with three GPs in the cast (Luke Hogan, strutting his stuff in fetching tights, and Ann Staughton and Laura Taylor in the ensemble). The volunteers who keep this company running so well include Warwick Binney, whose family funeral business in Lismore is well known, and Jacquie McCalman whose husband Craig is an anaesthetist and ICU specialist in Lismore.
Details

Written by

Robin Osborne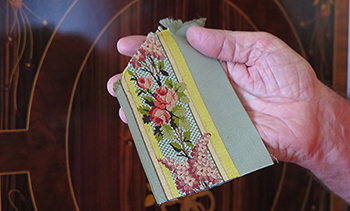 Few, if any, living Australian artists are selling works for one million dollars, but then how many spend more than six years to see their creations come to fruition?
These factors alone make the Hannah Cabinet, the masterwork of local cabinet-maker Geoff Hannah, truly unique. On top of that come various details of the work: 92 drawers, 34 types of timber, four rare species of shell and 17 types of precious and semi-precious stones.
Less visible to the naked eye are the secret drawers, one of which holds a swatch of fabric from Marie Antionette's boudoir – as part of his Churchill Scholarship Geoff travelled to Europe and was made privy to the fabulous furniture at the Palace of Versailles where even the restorers were impressed by his skills and knowledge. The fabric was a parting tribute to his expertise.
Geoff was made an Honorary Fellow of Southern Cross University in 2009 and was awarded an OAM in 2018 for services to the visual arts. Other works include a cabinet displayed at the Governor-General's residence in Canberra.